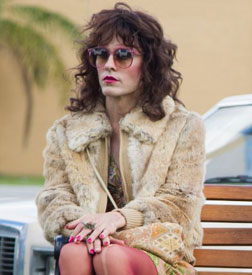 The media has been talking all year about Matthew McConaughey's weight loss for the upcoming film Dallas Buyers Club, but fans of Jared Leto might not even recognize the actor in the movie. Leto plays a transsexual who is suffering from both a drug addiction and AIDS.
The actor lost almost 30 pounds to play the role and weighed only 116 lbs. when he stepped on set. He talked to The New York Times about how his physical appearance affected his acting choices.
The 41-year-old actor said, "It's a great tool. It changes the way you walk and talk and think and feel, the way people treat you, the choices you make."
Playing the character Rayon involved transforming from a man to a woman who wears makeup, heels, a wig and a dress. Leto focused in on the emotional side of the story as well by talking to transgender people about their lives.
"The beginning for me was listening to transgender people sharing stories, learning what it was like to transition, learning what it was like to tell your father who you really were, or really are," said the former My So-Called Life star.
He committed to the role in such a way that he lived in character throughout the 25-day shoot.
"That phrase 'staying in character' to me really means commitment, focus, and for a role like this that's so intense and challenging and extreme in a lot of ways, it demanded my full attention, he said. "I couldn't imagine every time the director yelled 'Action!' that I would recall all of the aspects, the physical and emotional characteristics of the character, at a moment's notice."
That commitment has resulted in strong early reviews from film critics. The buzz on his performance could earn him a few supporting actor nominations come awards show season. However, Leto has taken the reviews all in stride.
He said, "The film isn't really for me right now, it's for everyone else. I was there. I read the script. I was in the scenes and I had the pleasure of being on set and inhabiting this role, and that was incredible."
Dallas Buyers Club opens on Nov. 1.