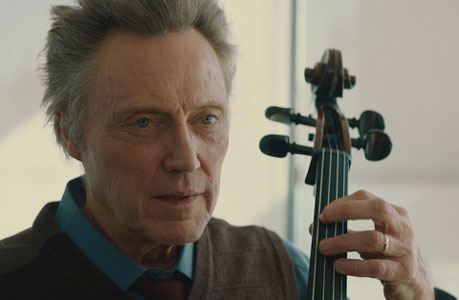 Every time I think I'm finished writing articles about one of Christopher Walken's roles, in less than a month I find myself writing about another one of the prolific actor's roles.  This time around it's an interview Walken did with The New York Post to promote A Late Quartet, in which he plays the cellist of a Manhattan chamber ensemble.  He talks about faking the cello, what he loved about filming in New York, and, of course, his recognizable delivery.
Walken didn't learn how to play the cello for the movie, but he had to learn how to convincingly fake it.  He credits this to his teacher, saying, "I had a wonderful teacher. Of course, the body language — the way your shoulders move and the angle of your head, there was a lot of that."
One of the draws to making the film for Walken was being able to conveniently work where he was born.  He explains, "I was born in New York, I went to school at Columbus Circle and I watched Lincoln Center be built from the tenements featured in West Side Story. So to make a movie on my own turf! [During filming] I had an apartment there on the Upper West Side, and I had forgotten something. So I just walked back to my apartment and got it, and nobody even knew I was gone. I wish I could make a lot of movies that way. To work where you live, it's just divine!"
Of course, it wouldn't be a Christopher Walken interview if he wasn't asked about his unique delivery.  Surprisingly, he seems to have a different answer every time, and this time he blames it on his dislike of punctuation.  He explains, "I think it has to do with the fact that I love the words, but I don't like the punctuation. I feel that punctuation is a kind of stage direction. Punctuation tells you how to say something, and I think the words of what you have to say and how you say them is really up to you."
A Late Quartet is now playing in limited release.