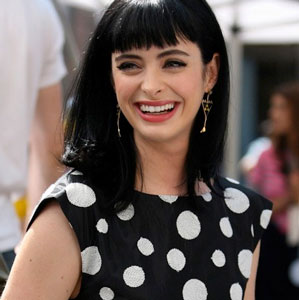 Krysten Ritter has learned the entertainment industry can be unpredictable.  Now that she's landed a role in the hit ABC sitcom, Don't Trust the B in Apartment 23, Ritter can look back at how her career has taken some unexpected turns.
"I did a Gossip Girl spinoff which was supposed to be this huge thing and it was not good and didn't work and it didn't get picked up," Ritter recalled in an interview with Associated Press.  "So I stopped thinking about results and I did the pilot for this and I loved it and I had a great time but…I had no expectations."
Ritter previously made appearances on Gilmore Girls and Veronica Mars, but she didn't expect her turn as Jesse Pinkman's druggie girlfriend on Breaking Bad to cause much of a splash.
"I did Breaking Bad thinking, 'No one will see this.  I'll just do it because it's awesome,'" she said.  "And it's turned out to be like the biggest credit I have in my career."
The 30-year-old tries to bring a sweeter side to her character, Chloe, on Don't Trust the B—-, who's known for her outrageous schemes.  Ritter noted that she gives "lightness [to the role].  I'm girly and I like to have a good time and joke around and I think that helps the character not just be evil.  I think there's two different ways you can play this character.  You could just be an evil, mean person or you could make it fun."
The actress also cites a favorite quote by Bette Davis as to why she's so perfect for the part: "Why am I so good at playing b—s?  I think it's because I'm not a b—.  Maybe that's why Joan Crawford always plays ladies."
Don't Trust the B airs Tuesdays at 9:30 p.m. on ABC.