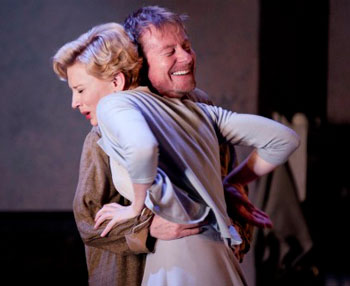 In a recent interview with PBS' Jeffrey Brown, Cate Blanchett and Richard Roxburgh talked about reviving Anton Chekhov's classic Uncle Vanya, which is now playing at Washington, D.C.'s Kennedy Center.
"Chekhov is tricky. As we say in Australia, he's a bugger to perform," said Blanchett of the play's creator, who first published Uncle Vanya in 1897. Since then, it's been performed all over the world and adapted for five films. "The process of rehearsing it, it was a bit like doing a clowning workshop, not that we were trying to get up there and be funny, but in the way that you have got to get up there and risk being and doing nothing."
Blanchett's co-star wouldn't rather be doing anything else. "What you find working in film is that you can spend a day doing some really menial, terribly dull activity. He scratches his head and yawns and gets out of bed. He walks to the shower. He closes the door. That is three-quarters of a day in film land," said Roxburgh. "In terms of acting itself, there's nothing for me is as wonderful and as — frankly, as nourishing — as doing theater. Theater gives back to you."  Blanchett's famous for appearing on the big screen in The Lord of the Rings trilogy, has more recently had roles in stage productions of A Streetcar Named Desire and The War of the Roses. Meanwhile, Roxburgh has earned praise for his parts in Hamlet and Toy Symphony.
"It's a socially important enterprise, putting on a play. And that doesn't always happen, but that is what you're always trying to do," Blanchett explained. "And I think that that is the addictive thing, is that the audience will get as much as they put into it, but also you're responsible for shaping their experience very, very tangibly. It's a very powerful experience to have."