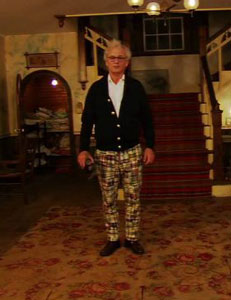 I just came back from a screening of Moonrise Kingdom, Wes Anderson's newest film that stars Bill Murray, Bruce Willis, Edward Norton, Tilda Swinton and Frances McDormand, saw this video and thought it was hilarious.
The film is tells the story of two twelve-year-olds who fall in love, make a secret pact, and run away together into the wilderness of a small island off the coast of New England.
I'm embargoed – I hate being embargoed – from talking about the film, but if you like Anderson, you definitely won't be disappointed.
Here's a video of Bill Murray on the set talking about the film all while being a bit sauced on some good ole' Sailor Jerry Spiced Rum. "I have a little bit of rum in me. I had to work with a bunch of scouts and kids. No money can make that right, can it?" he says. And yes, I can definitely agree with him.
Here's another great line he says towards the end of the video: "Here I am in a cardigan sweater sittin' here in Newport, Rhode Island livin' la vida loca."
Check it out below!