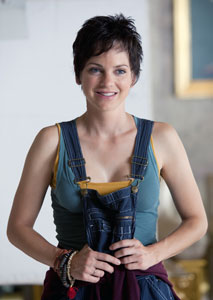 Comedian Sacha Baron Cohen has added a new character, Middle Eastern dictator Admiral General Aladeen, to his other famous creations, Ali G, Borat, and Bruno.  Baron Cohen stars as Aladeen in The Dictator, which tells the story of how the all-powerful dictator fares on the occasion that he visits New York City and is mistaken for a commoner. 
While it's next to impossible to get a serious interview with Baron Cohen out of character, luckily the New York Times was able to get an interview with his co-star, Anna Faris.   
Touching on perhaps the most difficult aspect of the production, Faris commented on Baron Cohen's usual practice of staying in-character throughout an entire shoot.  She says, "It's the same here in that he fully embodies a character that is very different from himself."  She adds with a laugh, "Well, I guess only in some regards.  I think all of us have a little dictator in us. Let's just say I think he enjoyed playing the role."
While The Dictator was less the sort-of "sabotage" filmmaking that Baron Cohen's previous movies were, it still utilized a minimalist crew.  That's something that Faris felt helped Baron Cohen's performance, pointing out, "It's energizing.  And I think it fed into the idea of him being this sort of glorified wild man. But logistically it can also be very difficult.  A lot of his improv would be about threatening to kill me or ragging on my looks, like calling me a lesbian hobbit or a chubby Justin Bieber. If I reacted in a way that displayed discomfort, it was like a bulldog with a bone, not letting go. I definitely feel he revels in that."
The Dictator opens in theaters on May 16.