Andy Serkis has made his name as a motion capture performer, portraying computer-animated yet life-like characters in hit films like The Lord of the Rings trilogy, King Kong and Rise of the Planet of the Apes, which is due to arrive in theaters this Friday. The 27-year-old waxed philosophic on the art of motion capture for a recent story in the Orlando Sentinel.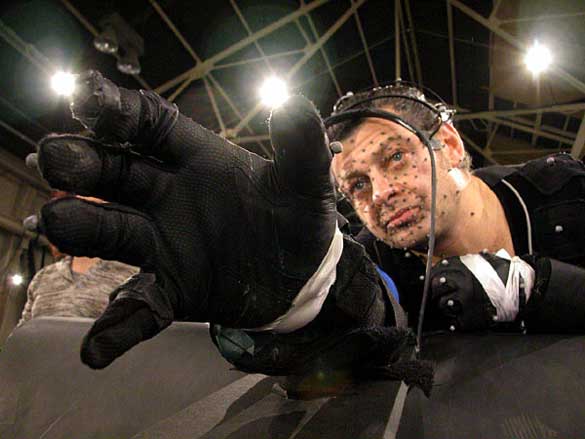 "It's not a genre of acting. It is a tool that enables you to enter into the world of your character. I think of it as digital makeup, really, not as a genre," Serkis said. "If you want to learn it, want to go down that route, to be able to fully explore, physically, a character and to be able to express that character with every fiber of your being, you can be taught. Most good actors do that anyway."
"In terms of acting, though, if you're playing a highly stylized character whose physicality is the first thing on your mind, there's a whole acting language that you have to learn. But the core principles of playing a role, the psychology, the emotional content of a role, is no different," he said. "I have never ever drawn a distinction between playing a live action role and playing a performance capture role.
Perhaps Serkis' most famous role is that of Gollum in the Lord of the Rings franchise, based on J.R.R Tolkien's novels about the fictional Middle-earth. He will reprise that part in two movies based on prequel The Hobbit, which are expected to come out in 2012 and 2013.
"In terms of a process, what I say to actors who are about to do performance capture for the first time is that number one, you don't have to over-pantomime the emotions you're portraying. Trust the technology. It's very sensitive. Everything that you're feeling will come through. You don't have to pull faces," explained the actor. "And number two, you have to create an internal physical energy beyond which you can't drop. You have to be more in the moment that ever. You can't just limply stand there, unless your character is just someone who limply stands there. You are driving the technology. You are both the puppet and the puppeteer."