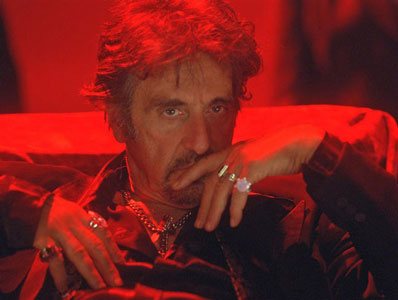 I don't know who originally said it, but it's been said that every actor wants to secretly be a director and every director wants to secretly be an actor. 
I guess that explains Quentin Tarantino, but apparently it also describes Al Pacino, an actor who is (generally considered) one of the best actors in the history of Hollywood.  
The Godfather and Scent of a Woman star has only directed three films — two of which being the documentaries Looking for Richard and the upcoming Wilde Salome about Pacino's efforts at staging plays — yet curiously Pacino tells the Telegraph that he has directed other films that haven't been released to the public.  Why not?  Pacino is insecure about his abilities as a director, saying, "I always feel like a dilettante making movies, because I know great directors and I'm not that."   Pacino's Wilde Salome explores the actor/director's fascination with Oscar Wilde and Wilde's play Salome, which Pacino had done on Broadway in 1992 and 2003 before working on this film. 
Pacino has a deep respect for Wilde, admitting, "We know from his writing that he was a very liberal thinker and a visionary in terms of his feeling for people and how he wanted society to be more humane. And he was really on dangerous ground at that time."
Nonetheless, Pacino's interest in directing isn't going to stop him from doing what he does best: acting.  "I always say that I'm going to be selective but I never am. I always wind up doing something," he says, which perhaps explains why his next film is the upcoming Adam Sandler comedy Jack & Jill, which isn't likely to nab him another Oscar.