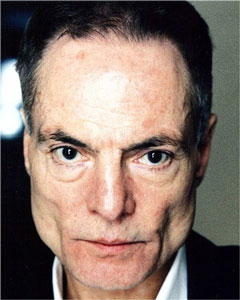 Now I can't say I've actually seen either of the Human Centipede movies (especially since a guy I know told me that a girl he was dating never talked to him again after he watched the first one with her), but the movie definitely has its fans who are eagerly awaiting the third installment in the horror franchise.
The film, which was supposed to feature the villain from the first film, played by Dieter Laser, and the villain from the second film, played by Laurence Harvey, in some sort of final super-centipede plot.  
But it seems like Laser has had some second thoughts. 
According to Ilona Six, producer of the series and sister to the series' writer/director Tom Six, though Laser agreed to star in the film he has delayed the film after objecting to the script. 
Ilona Six explains, "Because of the success of The Human Centipede, it seems that Mr. Dieter Laser's ego has grown to laughably big proportions.  First signing the contract and rating the The Human Centipede 3 script as fantastic, and then demanding his own unacceptable script changes, and now refusing to play the part only seven weeks prior to shooting. Six Entertainment Company will start legal action against Dieter Laser. Tom Six says not to worry – principal photography will be postponed and will take place later this year."
But Laser tells a different story, claiming that he had never seen the script before getting the contract and objecting to it after it was delivered late.  He says, "It's very simple: I loved the story when it was told, got the contract and the promise to have the script in 4 to 6 weeks. When it arrived – half a year later and only after the official announcement – I didn't like the realization at all, couldn't identify with the character the way it was written and developed immediately and enthusiastically in a day and night marathon a version full of concrete and practical suggestions which would enable me to play the lead full throttle – same procedure as with Dr. Heiter – but this time it also would have had some unavoidable effects to the dramatic structure. That was too much for Tom and since he couldn't live with my suggestions and I as a method actor couldn't identify with his version, I told him that I couldn't see any other way than that he would have to 'change horses.' That's it."
This "he said, she said" situation will likely come down to the language in Laser's contract.  Still, I find it humorous that a movie series that many have called the most vile they have ever seen might not get a sequel because of arguments over, of all things,  characterization.  I'm not saying that the film doesn't require good acting, I'm just surprised that out of all things Laser objects to it's finding the character. 
And how does one use method acting to portray a sadistic, disgusting surgeon, anyway?  I don't think I want to know.
via Worst Previews