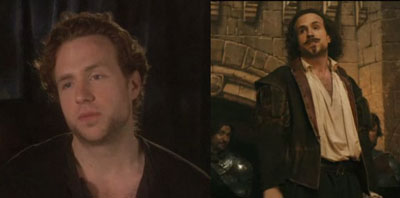 Anonymous, the story of who actually created the body of work credited to William Shakespeare, opens next Friday the 28th. give's gives
Like I wrote the other day, having seen the film – I can't say much about it because I'm embargoed – I'll say is that Rafe Spall, the actor who plays Shakespeare is freakin wonderful in the role. You can't take your eyes off him.
Here's 3 videos about that have Spall, Rhys Ifans and director Roland Emmerich discussing the film. 
The first 2 have Spall and Ifans talking about their characters. Spall talks about wanting to have the classic look of Shakespeare, "we all have that idea of what he looks like," he says. Ifans says his character, Edward De Vere the Earl of Oxford, was inspired by David Bowie (where did we just hear that?) and Karl Lagerfeld.
The 3rd video has director Emmerich listing 10 reasons why he believes Shakespeare did not write his plays. It runs a little over 7 minutes but if you're into Shakespeare, it's interesting to watch. I don't believe it but he gives a good argument. 
Rafe Spall talks about his portrayal of the Bard
Rhys Ifans describes his character, Edward De Vere the Earl of Oxford and how he was inspired by David Bowie and Karl Lagerfeld
Director Roland Emmerich lists 10 reason why he believes Shakespeare did not write his plays