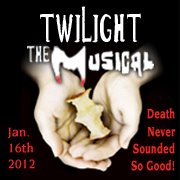 Every action has an opposite reaction.  When something like Twilight becomes a pop culture phenomenon it is bound to cause a backlash.  And with such a backlash often comes parody. 
So if you'll be in the New York City area on January 16 you have the rare opportunity to see a concert reading performance of Twilight: The Musical, a parody of the best-selling (and much maligned) book series and the high-grossing (and even more maligned) movie franchise. 
To make it even better, the show is for a good cause — and no, I don't mean making fun of Twilight, though many would agree that alone is a great cause.  All net proceeds from the performance will benefit Blessings in a Backpack, a children's hunger charity.  While the show Twilight: The Musical, which is written by Ashley Griffin with music and lyrics by Jeremy Ezell, Ashley Griffin, Sean Mahoney, David Mallamud is currently in development in New York City, this one-night-only performance concert features songs from the show parodying the teenage vampire romance with such titles as "Life Sucks When Your Boyfriend Is A Vampire," "Death Never Sounded So Good," and "I Imprinted on an Infant."  Starring as Bella Swan is Meghann Fahy, who previously starred in the Broadway show Next to Normal, and Jenna Leigh Green (Wicked) as Rosalie.
Sounds like a lot of fun all for a good cause, but one night only?  Something tells me that the demand for tickets is going to going to far outweigh the supply…
The Twilight: The Musical concert reading performance will be on January 16 at New World Stages at 340 West 50th Street.  For tickets click here.