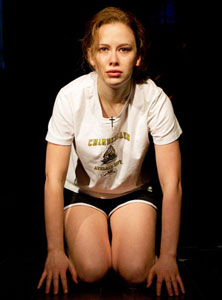 The current off-Broadway revival of the infamous Carrie — based on the Stephen King novel and subsequent classic film –has already ran longer than the sixteen previews and five performances that the 1988 Broadway production ran, so the new production at the Lucille Lortel Theatre can already take that success into account. 
Though the show is currently set to last its entire limited engagement (which ends April 22), it took several years for the show to actually make it back to the stage, beginning with a reading in November 2009. 
Starring as Carrie since that 2009 reading is Molly Ranson, who spoke to Playbill about the show's long return to the stage and why she believes it works better twenty-four years later.
Over the last two-plus years Ranson has been working on Carrie, which is an experience most actors haven't had.  She marvels at the process, saying, "It's unlike anything I've ever done—getting to work on a character for two years and finally having it happen now after two years of working on it. She's such a complex, interesting character. She gets to be on both sides of the spectrum of being this really shy, downtrodden, kind of abused person to finding her strength in the most exciting, thrilling, terrifying ways."
Part of the musical's overhaul — which involved the musical's original composers Michael Gore and Dean Pitchford and original writer Lawrence D. Cohen — was significant changes to the music.  Ranson has nothing but praise for the material, pointing out, "The score is amazing. More than half of it, I think, is new from the 1988 production, so people will be excited, hopefully, to hear the new stuff, but, also, some of the old favorites are still in there."
But besides the music, Ranson believes that a change in venue ultimately helped Carrie become more successful this time around.  She explains, "It's a very psychological, kind of disturbing story, and we are very much in tune with that side of it. I think that the Lucille Lortel is a great space rather than a huge Broadway house. I think that something that is so intimate has a bit of a creepier, realer feel to it, which is perfect for us."
Carrie is running at the Lucille Lortel Theatre (121 Christopher Street, Greenwich Village) until April 22.