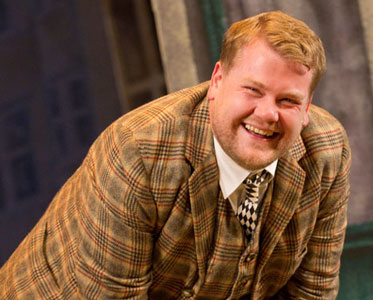 After opening at the National Theatre, a national tour, and opening at a West End Theatre, there seemingly wasn't any place left in England for One Man, Two Guvnors to go to.  So the successful comedy starring James Corden has now crossed the Atlantic for a run on Broadway. 
Corden spoke to the Associated Press about what is so challenging about his part in the play and why he looks forward to coming back to Broadway.
At first, one might aspect the most difficult aspect of the role for Corden is the physicality.  He says, "physically, it's the hardest thing I've ever done. My character's onstage for just two minutes and I have to throw myself backwards over a couch. It's full-on." 
However, One Man, Two Guvnors is not an ordinary performance: Corden has to riff off a number of audience plants and improv when audience members are pulled on stage. 
As a result, Corden cannot just go through the motions night after night, and he points out, "I'm the only person who can say I've never done the same show twice.  Every night, there are elements of this show that are completely unique to that night and that night only. I consider myself incredibly fortunate to be at the center of those moments."
But he's not complaining.  Corden is just happy to be back on stage in New York for the first time in over five years.  He reveals, "My career has taken turns which I've only ever dreamt of. I've been so blessed to have so many different things. But there's a big part of me that has felt like everything I've done has tried to be a quest to try to come back and work here again.  We've got five months to go and I'm already dreading leaving."  If there's one concern, it's that the normally dramatic actor hopes that the audience recognizes that he has both comedic and dramatic skills.  He jokes about the duality, saying, "here I am in a comedy and all I think is, 'God, I wish people knew how dramatic I am.' Such is the life of an actor, really. You long for one thing and as soon as you get it, you hope for something else."
One Man, Two Guvnors runs at the Music Box Theatre until September 2