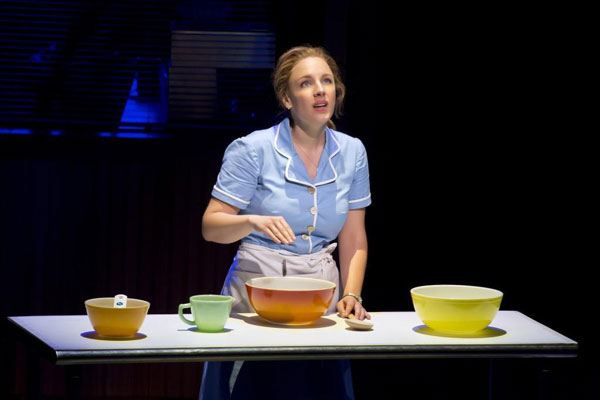 It's understandable if you think the only Broadway musical to get any Tony nominations is Hamilton, but while it's obvious that Hamilton will end up taking home most of the awards at this year's ceremony there are other acclaimed productions in New York this season. One of the most popular musicals not named Hamilton is Waitress, which stars Tony Award winner Jessie Mueller as a small-town waitress. In an interview with The Daily Beast, Mueller talks about what routines she follows to keep herself in performing shape, and what it was like when she started her career in New York.
Mueller follows a similar routine than other Broadway professionals to keep herself in eight-shows-a-week shape. She explains, "I keep talking to a minimum. I nap on two-show days. I don't really drink much, it's very drying. I get a lot of sleep. For me, that is the only thing that reboots my voice. If I haven't had enough sleep, there is nothing I can do to repair that damage."
After winner a Tony for her performance in Beautiful: The Carole King Musical, Muller admits she felt some pressure about doing another musical on Broadway. She says, "I think early on I did feel little bit of pressure. I think it was self-induced—just the sense that I had been so blessed with the success of Beautiful that it gave me a little bit of choice, and what I did next was really important."
It hasn't been a bad journey for Mueller, who grew up as a fan of theater. She recalls, "I was taken with theater from the beginning, it was the coolest thing for me. I was entranced, and it was the most natural thing because it was what my parents did." Mueller says what captivated her was, "the magic of becoming someone else, the music, and I was fascinated with the actresses coming out of the stage door with their lashes still on—it seemed otherworldly to me."
When Mueller moved to New York City to pursue Broadway her first show was On a Clear Day You Can See Forever, but it closed just seven weeks after opening. She recalls that upon coming to New York, "I was kind of terrified. I was thrilled, but On a Clear Day… closed soon after it opened. I would never give anything back of that experience, but I did think afterwards, 'What am I doing?' There were a couple of crazy dark moments." However, starring in a production of Into the Woods from The Public Theater, which won her considerable acclaim. She continues, "I wasn't sure what was to come, then Into The Woods came up, and so I thought, 'Cool, I'll stay and do this.'"
It's a good thing she did — less than two years later she was able to call herself a Tony Award winner.