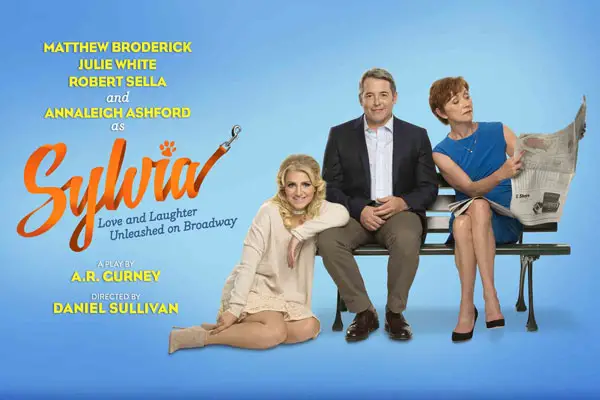 A middle-aged man takes a stray dog home as he copes with what seems to be an empty nest inspired mid-life crisis. It doesn't sound like ripe material for a stage comedy at first, but Sylvia, which is now playing in previews at the Cort Theatre, is a hilarious multi-level comedy that operates on two levels — the hilarity of a man's obsession with his pooch and the physical and verbal humor of Tony Award-winning actress Annaleigh Ashford playing a dog.
Yes, unlike other stage shows that cast an actual dog to play a canine, the role of Sylvia is played by Ashford, who says all those things dog owners think their pets are actually saying… and some things they'd never expect their pets to say or think, too. The play, which was written by A. R. Gurney (Love Letters, The Dining Room), previously appeared Off-Broadway in 1995.
Stars Annaleigh Ashford and Julie White (who are joined on stage by Matthew Broderick and Robert Sella) appeared at a press event to promote the first-ever Broadway production of the play. The two waxed philosophically about the perils of dog ownership, and Ashford spoke about what's it like to spend a significant part of her time on stage on all fours. One of my favorite aspects of the event was the two talking about how heartwarming the show is, even when Sylvia's mouth gets carried away.
Sylvia won't be opening until October 27, but I caught an early preview performance and it was absolutely hilarious. I don't often see a show in a limited engagement more than once (Sylvia runs only 16 weeks), but I am planning on making an exception for Sylvia.  Luckily for me (and you, because you haven't seen it yet), we have information on the rush policy for Sylvia and a discount code!
A limited number of rush tickets for Sylvia will be available for purchase in-person at The Cort Theatre box office beginning at 10:00 AM Monday through Saturday (12:00 PM on Sundays) for that day's performance(s) only. Rush tickets cost $32 with a maximum of two tickets per person. Rush tickets are subject to availability and may not be offered at  all performances. Rush seating locations will be determined at the discretion of the box   office.
Don't want to take a chance on the rush line? Totally understandable since you don't want to miss this. For performances through November 1, visit telechargeoffers.com or call (212) 947-8844 and use the code SVFLYR102 to save over $50 on tickets.
Until then, why don't you follow Sylvia on its social media links? Follow Sylvia on Facebook, Twitter, and Instagram or visit SylviaBroadway.com.
Special thanks to Jeffrey Richards Associates