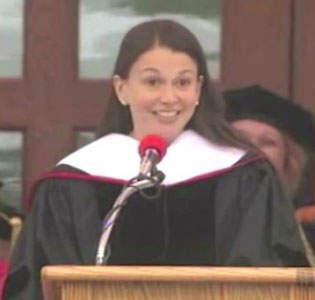 Sutton Foster is many things: talented actress, fantastic singer, 2-time Tony Award Winner. But now, she can add something else to her growing list.
Doctor.
Indiana's Ball State gave her an honorary doctor of arts degree this past weekend in recognition of her career in theater, television and music and for her contributions to the students of the school. As she said in her commencement speech, "I never thought I'd be a Dr. I thought I'd play one one day but this is quite an honor."
In the speech, she talks about her big dream of growing up to be a bank teller and how getting cast as 'Annie' at age 10 started her love of acting. She also talks about her difficult decision on having to choose whether to play her dream role of 'Eponine' in Les Miserables on Broadway or take the understudy role of 'Millie' in the La Jolla Playhouse's production of Thoroughly Modern Millie. She took the understudy part, the lead got sick and as she says in her speech, "the rest is history." She won her first Tony and it changed her career forever.
Her part starts at the 3:30 mark.