How come nobody this cool every dropped in on my classes when I was in college?
Trey Parker and Matt Stone went from being cable TV's darlings to Broadway superstars after The Book of Mormon swept this year's Tony Awards and has been sold out for every performance through the end of this year.
Of course, the South Park pair have also had hits in the cinema as well with not only the South Park movie but the War on Terror puppetry send-up Team America: World Police.  So obviously Parker and Stone could teach a lesson or two about how to succeed in the entertainment business, which is precisely what the duo did when they made a surprise appearance as instructors at New York University's Tisch School of the Arts.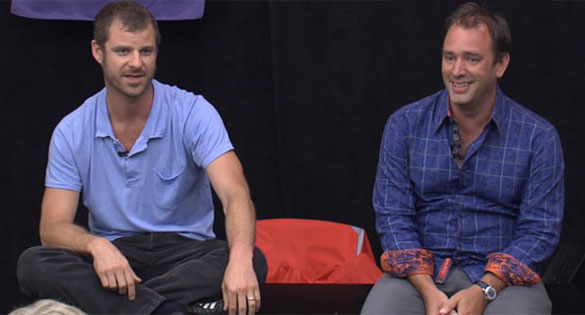 The class of 25 freshmen were treated to a lesson on "Storytelling Strategies" by Parker and Stone, including tips on how an outlined episode of South Park should flow from one story beat to the next.  Another gem from the Food Channel obsessed Parker about writing was not to use too many ingredients ("Get one piece of salmon and cook it just right.  Boil it down to one thing") or else you'll risk over-complicating the story.
Didn't get accepted into NYU this semester?  No worries — the Parker and Stone lesson was taped for Stand In, an MTVu show in which celebrities take over a college class.  It will air on October 3, two days before the second half of South Park's fifteenth season debuts on Comedy Central.
You can check out a bit of the lesson below.