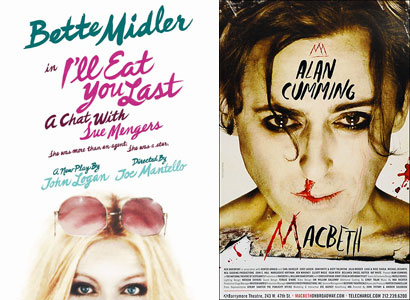 One of the best perks of being one of the 868 Tony Awards voters (yes, I realize I am saying  that like I'm one of them) is the free tickets all eligible productions.  Voters are expected to see all the plays and musicals over the next few weeks in order to vote. 
However, for two plays that surprisingly received no nominations,  I'll Eat You Last starring Bette Midler and Macbeth starring Alan Cumming, Tony Award voters have found out that the free ticket offer is null and void.
According to The New York Times, voters generally understand the move — especially since I'll Eat You Last has been a daily sellout, with premium seats selling for nearly $300 a ticket.  It's also not an unheard of move — producers of the 2012 revival of Streetcar Named Desire, which only received one Tony nomination, and the 2002 production of The Graduate, which received no nominations, pulled their free tickets also. 
In a statement, the producers of I'll Eat You Last said, "Once they were announced, and given that the show is a limited engagement, the producers elected to follow the precedent of shows from prior seasons and informed voters that tickets would be available at standard box office prices."  Likewise, the limited engagement of Macbeth is closing on July 14, and lead producer, Ken Davenport, explained, "Because we only have 64 performances left and because of the high demand for prime orchestra seats, every single ticket is extremely important to our business model.  To give away over 1600 seats would be to give away more than an entire house. And while I'd love every Tony voter to see the show now more than ever, without a potential for gain, it just doesn't make fiscal sense."  In that sense, you certainly can understand the decisions.
Still, I'm sure there are some voters out there that are grumbling about how that they actually have to pay to see two plays even though they get to see over two dozen others for free.