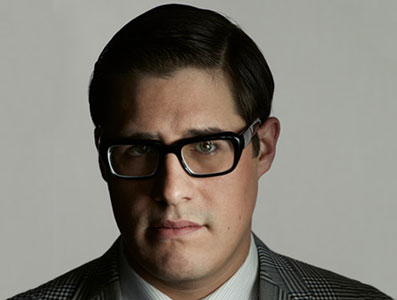 Rich Sommer stars as Harry Crane on AMC's Mad Men, but the actor is also going to be pulling double-duty in the upcoming Broadway revival of Harvey. 
In an interview with Rolling Stone, Sommer said, "It's simultaneously incredibly exciting and incredibly terrifying.  I haven't been in a play since grad school, so it's been about eight years.  I can't believe that I'm finally going to be back onstage and I especially can't believe that it's on a Broadway stage."
Sommer spoke about shooting one of his favorite scenes this season, in which Harry and Don go to a Rolling Stones concert.  He said, "That scene with me and Jon in the car after I've eaten all the White Castles was not only one of my favorite scenes of the season, but certainly of the entire series.  It was so much fun and with Jon directing from within it, it made it simpler because he was such a good director.  He's been directed by a lot more people than I have and I think over the years he's just developed a language which makes communicating with the actors that much easier.  I can truly say that [Hamm and John Slattery] are two of my favorite directors that we've ever had."
The actor also noted that he enjoys being the show's comic relief.  He said, "I am very fortunate that Matt [Weiner, series creator] and the writers often let me lob out funny moments.  I came up doing improv at Upright Citizens Brigade, so getting a chance to be funny on a show that's known for being pretty dark and dramatic is definitely one of the highlights for me."
Mad Men airs on AMC, Sunday nights at 10 PM, and Harvey runs on Broadway May 18-August 5.