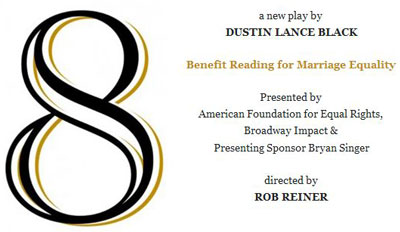 Hollywood is celebrating Tuesday's ruling that declares California's ban on same-sex marriage unconstitutional.  The US appeals court's decision led to an announcement that the play, 8, will still premiere on March 3 as planned, as reported by the Los Angeles Times.  The performance will be a one-night only reading at the Wilshire Ebell Theatre in Los Angeles.
The production is based on the 2010 court case Perry vs. Schwarzenegger, which focused on California Proposition 8—a law that would ban gay marriage in the state. 
The play uses court transcripts and interviews surrounding the case.  The night features an all-star lineup, including George Clooney, Matthew Morrison, Jesse Tyler Ferguson, Matt Boemer, Christine Lahti, Jamie Lee Curtis, and George Takei.  The show was written by Dustin Lance Black (who is best known for his Oscar-winning screenplay for the 2008 film Milk), and will be directed by Rob Reiner.  The play will function as a fundraiser for the charity, American Foundation for Equal Rights, which was founded by Black and Reiner to fight Prop. 8.
A spokesperson for the charity stated that the proceeds from the event will be used to fund the organization's work "in securing full federal marriage equality." 
For more information and tickets, click here