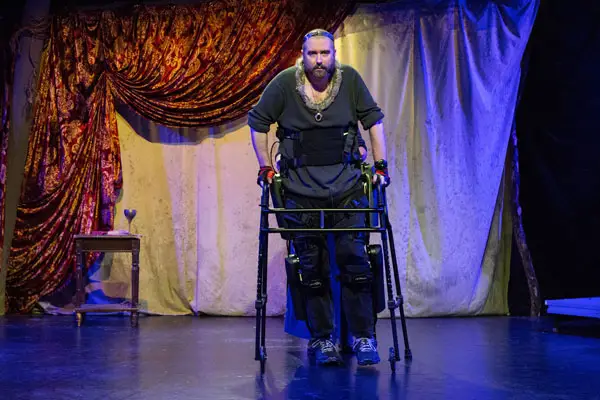 Michael Patrick Thornton, who has used a wheelchair since a 2003 spinal stroke, has appeared in a multi-episode arc on TV's Private Practice and in the 2011 film The Dilemma and is a member of The Gift at Steppenwolf theater company in Chicago. While all of those accomplishments are impressive, Thornton's latest role is a worldwide first — he is the first actor to perform on stage in an exoskeleton, which astonishingly allows him to walk. Appropriately, Thornton is portraying the lead role of William's Shakespeare's Richard III, the most infamous disabled character in theater.
The Rewalk exoskeleton, which utilizes a walker and wearable robotics to allow Thornton to move his legs, was developed by the Rehabilitation Institute of Chicago. Thornton practiced for "hundreds of hours" in the Rewalk, Dr. Arun Jayaraman, of the Rehabilitation Institute of Chicago telling ABC Chicago, "He walked with his eyes closed on the first day which has never happened before in the history of research with this device." The partnership with Rewalk has proved to be fruitful, with Thornton adding, "This company Rewalk have collaborated with the Gift Theatre to put on a production of Richard III. Richard is the most famous disabled character in the history of literature arguably, usually played by an able-bodied actor or a non-disabled actor, pretending to be disabled. Obviously in our production that's a little different."
The Gift Theatre's production of Richard III is scheduled to run through May 1 at Cicago's Steppenwolf Garage Space. For more information, visit The Gift Theatre.