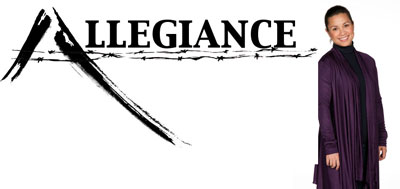 Allegiance is gearing up for its premiere at San Diego's The Old Globe and ahead of the opening, the production has released a song from the upcoming Broadway-bound musical.
Listen as Tony Award winner Lea Salonga (Miss Saigon) and Michael K. Lee sing, The Mountain's Heart.
The world premiere of Allegiance, also starring George Takei and Telly Leung (Godspell), runs at The Old Globe from Sept. 7 – Oct. 21, 2012.
Synopsis: Allegiance "is an epic story of family, love and patriotism set during the Japanese American internment of World War II. Sixty years after the attack on Pearl Harbor, a chance meeting forces WWII veteran Sam Kimura (Takei) to remember his family's relocation from their California farm to the Heart Mountain internment camp. As they struggle to adjust to their new home, Young Sam (Leung) and his sister Kei (Salonga) find themselves torn between loyalty to their family and allegiance to their country. With its moving score, Allegiance takes audiences on a journey into our nation's history through the eyes of one American family."
For tickets and information, visit www.TheOldGlobe.org