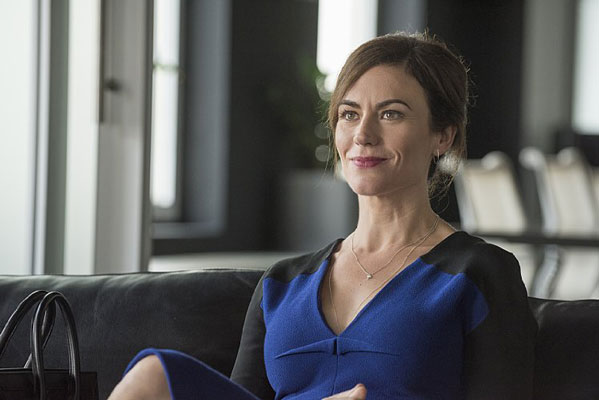 When Maggie Siff first got the script for Showtime's Billions, the star was both "shocked" and "simultaneously excited about the potential that lay within." At least that's what she told the New York Times when she sat down with them to talk about her new role.
The former Mad Men and Sons of Anarchy star remembers when she first started reading the script.  "I had a small baby, so at some point in my reading of the script, duty called, and I put it down. So I went to bed thinking the character was one thing and woke up thinking she was something totally different once I read the end of the script." She added that after the initial shock, she felt that she could "bring a certain amount of dignity and intelligence" to the character. "I have more inspiration and energy for those who are smart and really complicated. That's what, when I come across them, gets my heart beating a little bit faster."
While some may have run from this role, Siff was intrigued by the character. "I found Wendy really fascinating on the page. Characters evolve and get layered over time because television is long-form, but she was so multidimensional within that pilot script, which was very unusual. And Paul [Giamatti] and Damian [Lewis] are both actors I admire a lot, so I decided that I was going to try really hard to get the job."
Siff, who has a background in hedge funds, which the show deals heavily with, also opened up about how she prepared for the role. "I spoke with Tony Robbins, who's a good friend of Brian Koppelman, one of the writers and directors and creators. I think he embodies something that the writers were interested in seeing in the Wendy character: helping people make change quickly. If you've ever seen Tony Robbins, he's like a force of nature. I definitely have thought about how Wendy inhabits space, how she uses physical proximity."
Not saying Wendy will eventually be killed off, but Siff's does have some experience in that area. Her characters in Mad Men and Sons of Anarchy were both knocked off and she talked a bit about how she found out. "Well, with Rachel I didn't know that she'd been killed off, and Matt [Matthew Weiner, the show's creator] didn't want to tell me anything about it until after the scene. But halfway through shooting, Jon Hamm told me that I was dead. And I was like, 'What?! She's dead?' It made me very sad, actually. Then with Tara, I knew at the beginning of the season. I also did a film where my character died as well, and I was just like, 'What's going on?' But that was the same year that Lucy was born, and I kept telling myself, 'This just means a new page is turning over.' And it felt strangely appropriate."
Billions airs Sunday nights on Showtime at 10pm.