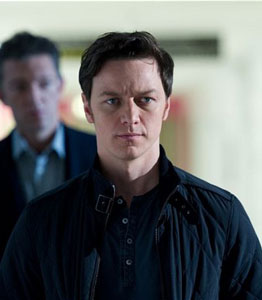 James McAvoy has found one of his toughest roles yet—well, physically that is.  In the London revival of MacBeth, McAvoy has already injured himself several times.
"I probably find it more difficult doing this Macbeth than any of the action movies I've ever done," he said in an interview with NPR.  "I've never been injured on an action movie.  I've been injured playing this guy so much more than any action movie I've been on…Different things [happen] every night.  Just as soon as I make myself safe by going, 'I won't do that again cause then I get a sword in my face,' something else happens and I put my shoulder out.
"We've all suffered in the cast.  There's 15 of us in the cast, and we're all down to physio like twice a week having to get sports massages and all that, but that's kind of the joy of it.  We've got a really brave, bold, violent, in-your-face scary production, and it's the kind of Macbeth I've always wanted to be in."
McAvoy's latest role, in Danny Boyle's Trance, was a project he was very excited to work on.  "I got about 15 or 20 pages in, and I started to sense that something else was coming in the character and then something else did come," he said.  "Until at the end, I was hunching at the bit, as we say in Scotland…It just means I was desperate…I was hungry to play this part."
The Scottish actor feels privileged to have such an illustrious career, especially given his early doubts about going down this path.
"Honest to God, I did a movie and a couple of little TV shows when I was 16, didn't do anything again, got into drama school," he said.  "Then I started working pretty much immediately after drama school.  I wasn't really aware of what was going on, and I still hadn't really decided that I was an actor.  I hadn't sort of said to myself 'Right, this is the rest of my life,' because you can't, because there is still a big massive part of me saying, 'What if the work dries up tomorrow?  Then I'm not an actor anymore,' you know?
"So it wasn't really until probably making The Last King of Scotland in Uganda, going to one of those exotic places, going to one of those incredible other places, and really getting in—that was probably the moment when I thought, 'Oh my God, I'm actually doing this.  I'm actually doing what it is that I was keen to do when I was 15 or 16, not necessarily being an actor, but I'm having the life that I kind of hoped I might have at one time'…I thought, right, I better start treating this more seriously, not that I didn't treat the work seriously but I didn't really regard myself as someone who deserved my place in the industry.
"Also that whole thing of people going, 'Your background doesn't suggest that you would make it here.'  You look around and every single person, nearly every single person, anyway, is from a similar background.  They're from all places, unlikely sources.  Do you know what I mean?  And that gave me great comfort, and I do feel like I have a place here, and at least I deserve it as much as anybody else, hopefully."
Trance opens in theaters Friday, April 5.