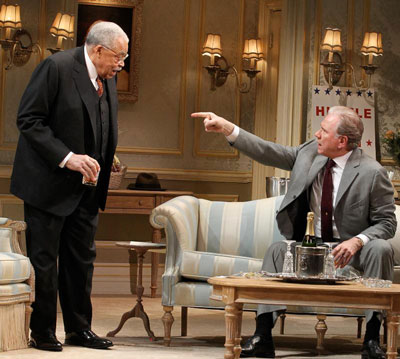 I used to teach literature to college freshman.  Trust me, it was more fun than it sounds, especially since we ended up reading some things that my students were really into.  One of those was the August Wilson play Fences, and in the anthology we read from there is a picture of James Earl Jones from when he debuted the lead role on Broadway.  Once you're put in a textbook I think it is fair to say you are an icon. 
Since he is again starring on Broadway — this time in the Gore Vidal play The Best Man — he spoke to the New York Times about his career.
Jones admits that after all these years he is still driven by the performances of other actors.  He explains, "The real part of theater is being onstage with your fellow actors.  The fake part is the glitter of it — that's got nothing to do with the work of show business. Otherwise, it can do real head tricks — you start believing your publicity."
Jones hasn't been away from the stage for very long ever in his career, and there's a good reason for that.  "I love any form of performance," he says, "I love any way of expressing ideas through words. It's probably because I didn't express myself through words for a long time."  That's quite a statement for a man who as a schoolchild hardly spoke.  He reveals, "For me, it was just a fear of confronting other human beings.  I talked quite freely with the animals on the farm."
Frankly Jones has no desire to return to those quieter days, since if it wasn't for acting he'd have a much less interesting life.  He says, "I'd live an isolated life," and it's likely he isn't fond of that prospect. 
The Best Man runs through July 22 at the Schoenfeld Theatre.