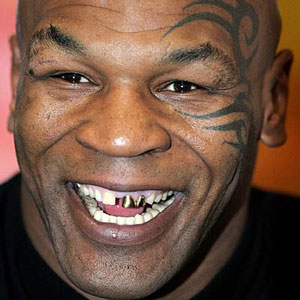 After memorable appearances in the two Hangover films (well, we might as well call it now that he'll put an appearance in the upcoming third film) and his award-winning 2008 documentary Tyson, former world heavyweight boxing champion "Iron" Mike Tyson has carved quite a movie career for himself over the last several years. 
Now Tyson is looking to translate his movie success to the stage — and not just any stage, but the biggest stage in the world: Broadway.
Tyson is bringing his one-man show Mike Tyson: Undisputed Truth to the Longacre Theater for a six-night run from July 31 to August 5.  Previously he performed the show for a similar six-night run at the MGM Grand Hotel in Las Vegas with director Randy Johnson, but the overhauled Broadway version will be directed by filmmaker Spike Lee. 
Not only is it Tyson's first appearance on Broadway (what, you thought he was in a revival of Sound of Music or something?), but it is also Lee's first time working on Broadway in his native New York City.
Tyson's autobiographical show covers his entire career, including his well-known legal trouble, history of drug abusive, and, of course, biting off a piece of the ear of fellow former world heavyweight champion Evander Holyfield.  Reviewers of his Las Vegas show mentioned that Tyson didn't hold back on any of the sordid parts of his life, so those seeing the show on Broadway will likely be in for a unique experience, to say the least.