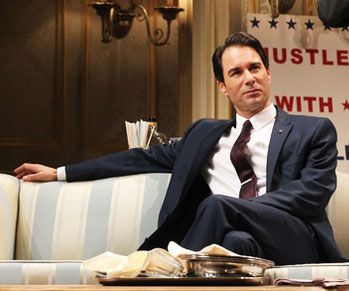 Will & Grace star Eric McCormack is currently starring in the Broadway revival of Gore Vidal's The Best Man with an all-star cast: James Earl Jones, John Larroquette, Candice Bergen, Kerry Butler, Jefferson Mays, Michael McKean and Angela Lansbury.  Speaking with New York Magazine, McCormack talks about the challenges of the role and how he confronts the audience's expectations of him.
One thing that bothers McCormack is when he's labeled a television actor, since the label is both inaccurate and seemingly puts him in a box.  He says, "I always get a little uppity when I hear the phrase 'TV actor'… I was in the theater for ten years before I ever had a TV audition. It's what I come from and what I do, and the thing with the sitcom is it was essentially theater: We did it in front of a live audience for eight years."
Yet those who recognize McCormack from Will & Grace will likely be surprised by McCormack's Southern accent in the play.  McCormack believes accents are more of a problem for audiences than for actors, pointing out, "Doing accents for most actors is not a problem — it's the audience's problem. If you'd never seen me before, you wouldn't know what I sound like, but the problem is I was on television for a long time, so I think we'll end up being judged."
The interviewer points out that McCormack is forty-eight, but seems like he's been playing mature adult roles his entire career.  He says, "I think it's because when I was starting out there wasn't Gossip Girl or Melrose Place — there wasn't much use in being 18 or 20.  The good roles were all being played by guys who were 30, and that's what I wanted to be. Very early on in theater school when I was auditioning for things, that's the kind of energy I was taking out there. So I kinda was 30 before I was 30, and was 30 through my thirties and forties — and I'm still sorta playing late thirties? Which is great! It'll change one day, but in the meantime, skin products are our friends."
Now that McCormack's on Broadway, he's got a few more plans, including one of his dream roles, the lead in Sweeney Todd.  He reveals, "I actually pitched it to Megan Mullally, that when we both got into our fifties we could do Sweeney and Mrs. Lovett together."
The Best Man runs through July 8 at the Schoenfeld Theatre.