When MTV News' Josh Horowitz caught up with Harry Potter star Daniel Radcliffe atop the company's Times Square headquarters last week, the pair talked about where the young actor's career is headed now that the franchise that made him a household name is winding down.
"This is a huge year for me…" said Radcliffe, who stars in three upcoming feature films. "The next 12 months are going to be quite telling, I think."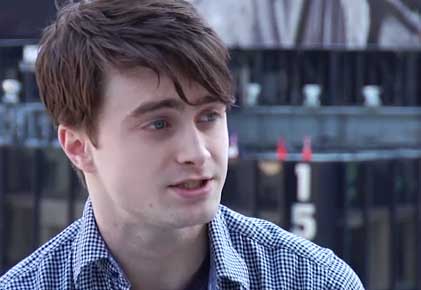 All starring Radcliffe, Harry Potter and the Deathly Hallows: Part 2 (the final installment of the popular fantasy series) and The Journey is the Destination are scheduled for release later this year, with The Woman in Black to follow in 2012. The 21-year-old is also currently playing the lead in a Broadway revival of musical How to Succeed in Business Without Really Trying.
"I wanted to make sure people knew that I wanted to work and I didn't necessarily want to take the easy option of just immediately signing up to a ten-part fantasy series," the English actor explained.
Speaking about his tireless work ethic, Radcliffe said, "I get very, very bored unless I'm doing something that challenges me and makes me jump through a few hoops."
Video after the jump.
On learning to dance for How to Succeed in Business
On not ending up like a lot of child stars
On his How To Succeed character
On his pre-show rituals