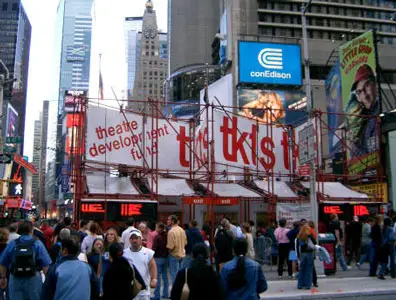 New Yorkers and tourists know that one of the best ways to score discount tickets to Broadway performances is Times Square's TKTS Booth, which just celebrated its fortieth anniversary as a New York City institution this month.  Though the discounts offered are usually worth waiting for, during peak times the lines at the booth can become rather lengthy, especially if you're behind people trying to decide what show they want to see!  Seriously, seemingly 9 times out of 10 you're stuck behind people who debate what to see — and you know they're just going to end up choosing an old standby like Mamma Mia!, Phantom of the Opera or Wicked.  Nothing wrong with that, but can't you just come to that decision faster?
However, the Theater Development Fund, which operates the TKTS booth, has instituted a new policy to help get that line moving quicker for frequent theatergoers.  To speed the process up for Broadway regulars and tourists who plan on seeing more than one show during their visit, TKTS has established a new "7-Day Fast Pass."  This will allow anyone who has bought a ticket from TKTS in the last week to skip the regular line and go right to the first window to purchase either full price or discount tickets for upcoming shows.  All the person will need is their TKTS stub from the previous performance.  The idea behind the incentive is to encourage people — even people who are only in New York for a limited time — to see more than one Broadway production and to reward the ones who already do.
Definitely a major plus for anyone who is planning on seeing multiple shows in a short period of time.  You could see TWO shows in the span of time it takes other people to make up their minds!