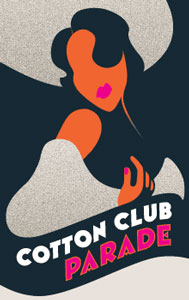 Cotton Club Parade, the Encores! Special event that celebrates Duke Ellington's years at the famed Harlem nightclub in the 1920s and '30s, is moving to Broadway this fall.
Our own Chris McKittrick reviewed the show last November said that the it's "a musical celebration that should be shared with audiences all over."
The show, directed by Wynton Marsalis, features singers, dancers, and the world renowned Jazz at Lincoln Center All Stars.  The score includes songs by the greatest jazz composers of the time, including Jimmy McHugh and Dorothy Fields ("I Can't Give You Anything But Love" and "Digga Digga Doo"), a young Harold Arlen ("Stormy Weather," "I've Got the World on a String," "Between the Devil and the Deep Blue Sea,"), and of course, the legendary Duke Ellington ("Rockin' in Rhythm," "Cotton Club Stomp," "Black and Tan Fantasy," and "Creole Love Call").
Theatre, casting, creative team, and ticketing will be announced soon.