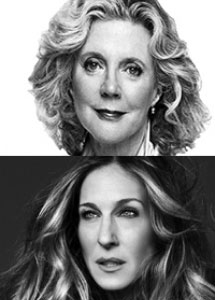 Manhattan Theatre Club is pleased announce complete casting for the upcoming world premiere production of THE COMMONS OF PENSACOLA, the new play by Amanda Peet, directed by MTC's award-winning artistic director Lynne Meadow.
Joining previously announced cast members Emmy and Tony award winner Blythe Danner and Emmy and Golden Globe Award winner Sarah Jessica Parker will be Zoe Levin (The Way Way Back), Ali Marsh ( "In Plain Sight"), Michael Stahl-David (Cloverfield), and Nilaja Sun (No Child…).
The limited engagement of THE COMMONS OF PENSACOLA will begin previews Tuesday, October 22 and open Thursday, November 21 at MTC at New York City Center – Stage I (131 West 55th Street).
Judith (Blythe Danner) has been divested of her assets and forced to leave her luxurious New York life after her husband's Wall Street scam became headline news. When her daughter Becca (Sarah Jessica Parker) and Becca's filmmaker boyfriend (Michael Stahl-David) pay Judith a visit to the one bedroom condo Judith now occupies in Pensacola, Florida, everyone's motives are called into question. How will past and present circumstances inform how this family moves into the future?
The new play is an incisive and funny new play about trying to love your family even when you hate what they've done.
It also marks the reunion of Danner and Parker who previously starred together in MTC's 1995 hit production Sylvia by A.R. Gurney.
For tickets and information, click here.