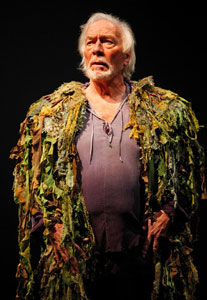 Have any plans on June 14?  At 7:00 PM (local time) in North America there will be a one-night-only screening of the 2010 Stratford Shakespeare Festival production of The Tempest starring Christopher Plummer as Prospero in 565 movie theaters.  Plummer recently spoke about the experience of being filmed while performing on stage and what his view is of filming live theatrical performances. 
Plummer admits that there were some difficulties with filming a performance, especially since they would not do it without an audience.  He explains, "There were only two days in which we were able to film this.  There are two barriers in front of you.  There's the screen and then there's the audience in the theatre.  So I think a lot of credit to making this thing interesting was that it was shot with great imagination and very quickly so it did have a cinematic look about it.  And the audience being present is terribly important because you then feel you have to photograph the audience so you know that they're there.  You then feel that you're also there in the theatre."
Was Plummer's performance disturbed by the presence of the cameras?  He says, "Oh no, that's nothing.  Ten cameras, please, welcome, that's nothing.  And then you forget about them because you've got the audience in front of you and that's really who you are playing to.  The difficulty is to decide who you are playing to: whether it's the mass outside, or the audience which is in the theatre.  So that's a little bit confusing.  You have to watch that you don't overdue certain moments or you don't make ugly faces when you're doing something rather larger than life as you described.  But that's the only slight problem.  You just have to be aware of that."
Plummer ultimately ends the conversation by bringing up probably the best argument for why a theatrical performance should be filmed, saying, "First of all, it is a record of a performance.  We in the theatre do some of our best work in the theatre.  Yet, it's finished and it's forgotten, and even if it isn't perhaps perfect as cinema, it is a wonderful record of a performance or performances of these plays and that's important." 
I'd have to say, regardless of your own views on watching a filmed theatrical performance, now that it's been two years since Plummer appeared in the role I'm certainly glad that it was filmed for posterity!
Click here to find out where The Tempest is screening by you.