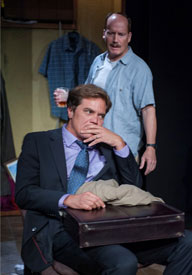 Broadway may be the center of the theater universe in the U.S., but not all acting greats who start in theater get their breakthrough in New York City.  In fact, a number of notable actors who had their first major breakthrough in Chicago theater have made their way back to the stage in the Second City over the last few years, including John Mahoney (The Birthday Party), William Petersen (Slowgirl), Michael Shannon (Simpatico) and Joan Allen (The Wheel), David Schwimmer (directed Big Lake, Big City), Laurie Metcalf and Kevin Anderson (Detroit), and Nelsan Ellis (who recently founded his own theater company).
While each actor had different reasons for returning to Chicago theater, all seem to focus on a sense of loyalty.  For example,  Shannon did so out of loyalty to Red Orchid Theater, which he founded, even though it meant juggling his schedule around promoting Man of Steel and his appearances on Boardwalk Empire. 
Likewise, Mahoney claims he never left Chicago even during the 10-year run of Fraser (he says "I spent 10 years living out of a hotel") after joining the Steppenwolf Theatre Company in the mid 1980s.  In fact, Shannon, Meatcalf, Allen, Anderson and Petersen all have been part of Steppenwolf at one time or another, with Peterson making his return to the company currently in The Wheel (with Allen) for the first time in 22 years.  However, for most of them returning to Chicago is something they do every few years, regardless of their stature on television or in film.
It's even more apparent that the actors are doing it as a labor of love and loyalty after Peterson points out that there really isn't much money involved, saying, "By the time you buy the cast and crew a round of drinks you're basically doing it for free."
via Variety