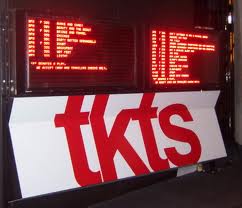 The Official TKTS app, available for iPhone and Android, is now available! We've downloaded it and instantly became jealous that we aren't in NYC.
The app is the only way to get fast, accurate, real-time listings of all Broadway and Off Broadway shows available at the world famous TKTS Discount Booths in New York City.
Download it directly from your phone or click here to go to the TKTS website.
Use this app to find:  a New York City theatre adventure or the Show Search feature to discover other Broadway, Off Broadway, off-Off Broadway, Dance and Music events all over New York.
FEATURES:
~ Real-time display of what is currently on sale at all three TKTS Discount booths.
~ A comprehensive show search where you'll find what is happening onstage in New York City – including show descriptions, performance schedules, theatre locations, accessibility information and links to official show websites.
~ TDF Stages: TDF's online theatre magazine featuring articles, videos and podcasts.
TKTS offers same-day tickets to Broadway and Off Broadway shows at discounts of up to 50% off full price.
The Official TKTS app is offered exclusively by Theatre Development Fund (TDF), the not-for-profit performing arts service organization which operates the TKTS Discount Booths.
To learn more, go to: tdf.com