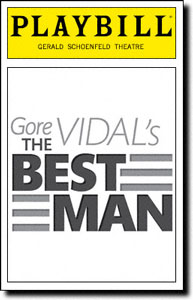 Gore Vidal's The Best Man is about to look a little different.
Cybill Shepherd, John Stamos, Kristen Davis and Tony Award winner Elizabeth Ashley will join the cast of the Tony-nominated Broadway revival when original cast members Candice Bergen, Eric McCormack, Kerry Butler and Angela Lansbury leave.
Shepherd, Stamos and Davis will begin performances on Tuesday, July 10, 2012 at 7:00pm, while Ashley will begin on Tuesday, July 24, 2012 at 7:00pm.
Original cast members James Earl Jones, John Larroquette, Jefferson Mays, as well as Mark Blum, who replaced the injured Michael McKean, will remain with the production through its final performance on Sunday, September 9, 2012.