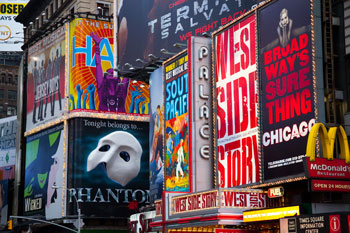 Even Broadway stars can't nail every audition — as many actors know, even the smallest, most insignificant thing could stop an actor from getting a part. 
So it's quite comforting to read Broadway stars recalling their worst auditions to the New York Post, especially since we know that they have all since gone on to great success.  After all, no one's career is ever a path of success after success.
Nathan Lane brings up when he bombed an audition with Milos Forman for the part of Schikaneder in Amadeus.  He confesses, "Milos was exceedingly charming, and at the end of the meeting he asked if I wouldn't mind reading a scene with him. I was happy to oblige.  I did the first line, and when I finished, he said, 'No, more like this.' Then he read the line. I did the next line, and then he said the same thing . . . this went on for the entire scene. Line by line. When we finally finished, I looked at him and said, 'Well, I don't know about me, but I think you'd be great in the part.' He giggled, gave me a screen test — and Simon Callow was wonderful in the movie."   However, Harvey Fierstein recounts an audition which was so bad it affected other members of the production.  He explains, "My worst audition was for the role of Roberta Muldoon, the transvestite football player in the 1982 film The World According to Garp.  The casting director, Marion Dougherty, called me in, and the first time around I was terrific. So she had me back to audition for the director, George Roy Hill. And I crashed and burned. I was terrible. He wouldn't even look at me. He looked at Marion and said, 'Do you want this job or not?' You know you've hit bottom when you get the casting director fired."
But perhaps Roger Rees has the best story of them all.  After all, in his story he tells us that he can't even play himself right, claiming, "I was living in New York and I got an urgent call from my agent saying I have to get out to Los Angeles right away for an important movie audition. I didn't want to go, so I asked, 'How do you know I'm right for the part?'  Because, he said, 'they're looking for a 'Roger Rees' type.' So I got on a plane, landed in Los Angeles, rented a car and drove straight to the studio to audition as Roger Rees for a "Roger Rees" type.  I didn't get the part."
Let's hope that you have a lot more success as your "type" than Roger Rees did!