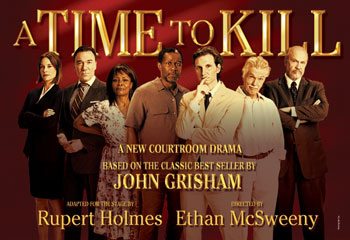 The producers of A Time to Kill, the new Broadway play adapted from John Grisham's novel of the same name, just announced that the show will close.
The final performance will be Sunday, November 17th.
Performances began on September 28th and opening night was October 20th.
Producers Daryl Roth and Eva Price said: "We are enormously proud to have brought John Grisham's A Time to Kill to Broadway with an incredible creative team and an extraordinary ensemble of actors.  We would like to thank Rupert Holmes, Ethan McSweeny, and the entire company of our production for—as we all witnessed night after night—thrilling our audiences with a compelling, essential story about justice and morality. We are extremely happy with the responses and reactions from our audiences."
The casting included Sebastian Arcelus as Jake Brigance; Jeffrey M. Bender as Deputy Looney; Dashiell Eaves as Pete Willard/DR Musgrove; J.R. Horne as Mr. Pate; Chike Johnson as Ozzie Walls, Patrick Page as Rufus Buckley; Tonya Pinkins as Gwen Hailey; John Procaccino as Drew Tyndale/WT Bass; Tijuana Ricks as Court Reporter; Lee Sellars as Cobb/Rhodeheaver/Grist; Tom Skerritt as Lucien Wilbanks; Fred Dalton Thompson as Judge Noose; John Douglas Thompson as Carl Lee Hailey; and Ashley Williams as Ellen Roark.
Synopsis: A Time to Kill, the popular courtroom drama, tells the emotionally charged, now-iconic story of a young, idealistic lawyer, Jake Brigance, defending a black man, Carl Lee Hailey, for taking the law into his own hands following an unspeakable crime committed against his young daughter.  Their small Mississippi town is thrown into upheaval, and Jake finds himself arguing against the formidable district attorney, Rufus Buckley, and under attack from both sides of a racially divided city.  This drama is a thrilling courtroom battle where the true nature of what is right and what is moral are called into question.
For tickets and information on this night as well as the remaining performances, visit www.atimetokillonbroadway.com.