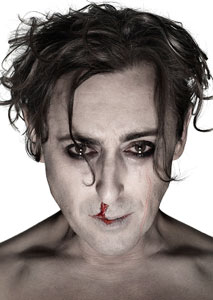 Alan Cumming is currently in Scotland rehearsing a one-man version of Macbeth in which he stars as Shakespeare's tragic King of Scotland and also… all the other roles in the play.
The show will have it's premiere in Glasgow on June 13th and move to New York's Lincoln Center on July 5th.
The Wall Street Journal talked to the director, John Tiffany – who is also the director of the Tony Nominated Once – about how he and Cumming came up with the idea of a one-man Macbeth.
He said when he and Cumming previously worked together – on The Bacchae – they talked about doing the show. Cumming said that "he'd love to play Macbeth, but also Lady Macbeth. So we did a reading with a large cast in 2011, and my good friend Andrew Goldberg, I was staying with him in New York and he came to see it and he thought Alan was incredible."
He goes on to say that they did the whole play and "for the first half, Alan was Macbeth, and for the second half, he was Lady Macbeth. [Andrew and I] sat up for hours talking about it. He said he always thought one version of Macbeth should be set in a psychiatric hospital, and that made the penny drop for me. So I said to Andrew, do you want to work on it with me? We approached Alan and here we are."