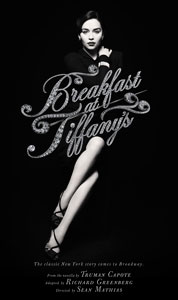 Breakfast at Tiffany's, the new play that opens on Broadway this March, is holding a casting call to find the purr-fect (sorry, I had to write that) cat to take on the iconic role of "Cat." 
Felines with Broadway dreams are encouraged to submit a photo and owner contact information to [email protected].  A casting session will be held next week (February 11th, 2013) to groom the candidates for their Broadway debut.
"Holly Golightly's beloved companion, 'Cat', is one of the most famous felines on all of literature," said director Sean Mathias.  "We will search high and low until we find the perfect animal to take on this role."
Breakfast at Tiffany's begins performances at the Cort Theatre on Monday, March 4th and will officially open on Wednesday, March 20th. This adaption of Truman Capote's classic stars Emilia Clarke (HBO's "Game of Thrones") as 'Holly Golightly,' Cory Michael Smith as 'Fred' and George Wendt as 'Joe Bell.'
I would totally submit my cat Daisy but her only talent is running out of my apartment top-speed and making me chase her down the hallway.