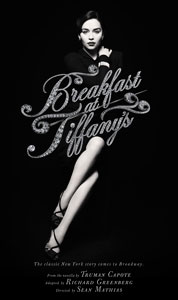 Here are the first photos of Emilia Clarke (Calisi from HBO's Game of Thrones) as 'Holly Golightly.'
Clarke is starring in the world premiere of Tony® Award-winning playwright Richard Greenberg's new play, Truman Capote's Breakfast at Tiffany's.
She looks pretty damn great, if you ask me.
As was previously announced, the new stage adaption of Capote's classic novella, directed by Sean Mathias, also stars Cory Michael Smith and will begin performances at Broadway's Cort Theatre on Monday, March 4. 
Opening night is set for Wednesday, March 20. 
Based on Capote's masterwork, Truman Capote's Breakfast at Tiffany's is set in New York City in 1943.  'Fred', a young writer from Louisiana, meets Holly Golightly (Clarke), a charming, vivacious and utterly elusive good-time girl.  Everyone falls in love with Holly – including Fred (Smith).  But Fred is poor, and Holly's other suitors include a playboy millionaire and the future president of Brazil.  As war rages on in Europe, Holly begins to fall in love with Fred – just as her past catches up with her.