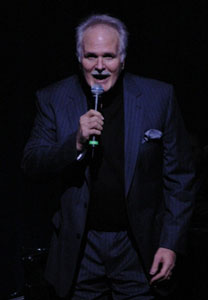 While the ideal is to see a theatrical performance that is as close to the intention as possible, it's always special to see a performance that differs from the expectations of the cast and crew. 
But when an actor falls ill during a performance it can certainly be a scary thing, even when the actor in question unintentionally picks an extremely appropriate moment to make his unexpected exit, as Jerry Lanning did during the October 18 performance of And Give Us the Shadows in Croton Falls, New York, a play by Swedish playwright Lars Noren in its American premiere about the final years of the playwright Eugene O'Neill, according to The New York Times.
In the play Lanning portrays the aged, alcoholic Eugene O'Neill.  The New York Times reports that on that night Lanning delivered O'Neill's line, "I can barely walk" and began to fall over. 
Naturally based on the line, audience members thought it was part of the show.  So when he next said to the audience, "I'm very sorry; I'm going to faint now," it was not unexpected that the audience thought it was part of the performance. The Times article notes, that only Hollis McCarthy, who was on stage and portrays O'Neill's third wife Carlotta and the crew, "knew that Carlotta's next line was 'So die then, darling.' Which she did not say that night."
It isn't the first time Lanning had a similar medical show while in a show — while making his Broadway debut in the original production of Mame in 1966, Lanning left the cast after sufering a prolonged fever.  However, Lanning worked through it and stayed with the musical for its nearly four-year run.
Thankfully, doctors say that Lanning will be fine and the faint was likely because of dehydration. Lanning was replaced in the role by Len Gochman, husband of the play's translator, Marita Lindholm Gochman.