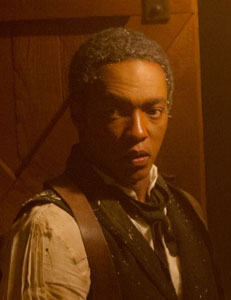 Anthony Mackie, best known for his dramatic roles in Half Nelson and The Hurt Locker, is currently starring in the new actioner, Abraham Lincoln: Vampire Hunter, as Lincoln's childhood friend, William H. Johnson.
When asked about how he got the part, he told Vulture that he "got a call from Timur [Bekmambetov, director] and he was saying that he wanted me to be a part of it. We had a meeting at a hotel not too far from here and had a long conversation.  I told him that I didn't wanna be a part of a jokey, campy movie.  With someone like William H. Johnson as well as Abraham Lincoln, if it wasn't a serious film, if it wasn't an accurate film, it wouldn't make sense to be a part of it."
Mackie noted that while his career is based in film, he'd love to be a part of the theater scene full time. "Yeah, theater is my home away from home," he said. "If I was Matthew Broderick and I could make money doing theater?  I would only do theater. I love it. I love the instant gratification.  I love being in the Broadway box and being able to have a beer and have conversation with guys in other shows. I love it."
So is another medium like television in the cards?  Mackie admitted, "I would love to produce TV.  I did one episode of Law & Order and it was the hardest job I have ever—I was like, 'I might as well get a job at McDonalds.  This is the hardest job in the world.'  The hours, playing the same character over and over; it's just difficult.  TV, you get compensated extremely well, but at the end of a day it is a job, and you have to forfeit every other aspect of your life for nine months."
Abraham Lincoln: Vampire Hunter is in theaters now.