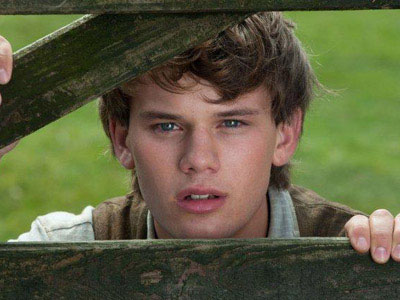 You'd think that for someone whose screen credits didn't extend beyond bit parts on the Disney Channel and who had recently played a tree on stage, a simple "You got the role!" would've sufficed, but for young British actor Jeremy Irvine, Steven Spielberg informed him he'd been cast in upcoming drama War Horse in a more creative fashion.
"Read this to camera, but don't turn it over until we say 'Action,'" Irvine was told at a callback for the role of Albert, a farm boy who tries to keep his horse alive during World War I. "Mr. Spielberg likes it to be spontaneous."
"Joey! Joey! Steven Spielberg wants me to play Albert in the feature film War Horse," read Irvine, who was just 20 when he was cast in the summer of 2010, before realizing the meaning of the words he'd just spoken.  "It was a nice way to find out," the British actor and drama school dropout said. "The whole thing isn't real to me yet. I'm still trying to take it in. I came from having no lines in the theatre to this."
When he says "no lines," he means he had zero lines. Prior to landing War Horse, which opens in the U.S. on Christmas Day and in January in the U.K., he portrayed a tree in the Royal Shakespeare Company's production of Dunsinane.
"My friends all took the mick out of me for that one, saying 'You're gonna be the tree'," recalled Irvine, who also had a bit part on Disney's Life Bites series. "And in my first scene, there I was waving two branches. I was in the chorus and had no lines."