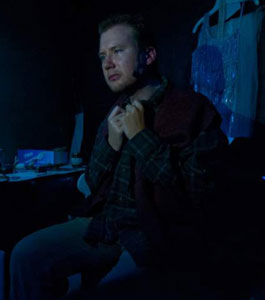 Most actors that I know describe their craft as therapeutic, and South Park, Pennsylvania actor Cory McCaffery Sigler is no different.  After all, a year ago he could only move about in a wheelchair and in a production of The Drowsy Chaperone this past fall he was not only the lead, but he was able to walk across the stage.
In 1998, Sigler was diagnosed with primary-progressive multiple sclerosis.  Though he was in his mid-twenties, he began to notice he got tired easily and was prone to tripping.  Though he was beginning a career in acting in the Pittsburgh area, Sigler eventually lost the use of his right hand and needed a wheelchair to get around. 
Despite these setbacks he continued to work in theater by directing shows and founding his own company, McCaffery Mysteries Inc., which stages murder mystery dinner theater.  However, his condition left him unable to fully pursue his acting goals.
Just over a year ago Sigler began taking Ampyra, a medication recently approved by the Food and Drug Administration that has increased mobility in some who have multiple sclerosis.  Although he did not see any results for six months, Sigler eventually discovered he could use his right hand again and taught himself how to walk again.  In a matter of months he was preparing for his role as The Man in the Chair in The Drowsy Chaperone at the McKeesport Little Theater, where Sigler is also on the board of directors.
Sigler hopes that his story will inspire not only others with multiple sclerosis, but all those who think something insurmountable is in the way of their dreams.  He tells Pittsburgh TribLive, "I want them (people) to know that you have to hold on to your dreams … I never stopped doing what I loved.  If I can do it (others can). I'm not Superman, by any means."