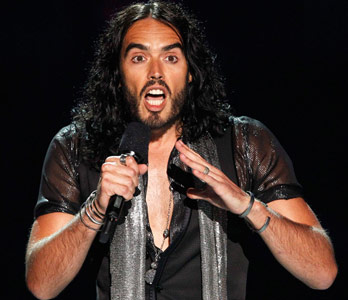 Comedian Russell Brand is taking on a new challenge, expanding on his resume that will now include stage actor.
Brand, who has consistently made headlines for his gutsy and raw, but hilarious, humor will be playing the lead role of Dick in writer Eric Idle's long running production aptly titled What About Dick? 
Set to run from April 26th through April 29th, the Orpheum Theatre event centers on Dick, a student of Oxford who is studying both philosophy and gynecology. 
"It's essentially the same idea as before, but the part of Dick got bigger — if I'm allowed to say that," Idle shared. Described by the L.A. Times as a "farcical romp that ties together many different plot strands," Brand's presence should add nicely to the already existing cast. 
The Forgetting Sarah Marshall star isn't the only new addition to the production, Idle, who found it "difficult" to pull the cast together, has also added Sophie Winkleman of Two and a Half Men fame.
Joining Russell Brand on stage for the performances are actors Eddie Izzard, who will portray the inventor of the vibrator, Jane Leeves and Winkleman as the cousin's of the titular character, Tracey Ullman as the alcoholic aunt, Billy Connolly in the role of a Scottish inspector and Tim Curry on board as a preacher in the production that will be staged as a radio play.
Idle has been working on What About Dick? for sometime, revising the script here and there when he deems necessary.  He recently added new songs with the help of Spamalot's John Du Prez.  Idle will also be narrating the story himself with Prez on piano.