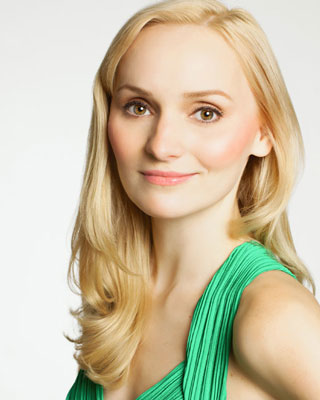 It's Never That Easy…
"COME HERE MY SINGING BIRD"
Studying musical theatre has been my dream ever since I was a child in my home country, Estonia. I first performed at age five and have been singing ever since. Even though I ended up studying law, my passion never dwindled, and I secretly dreamed of having a career as a professional actress and singer.
During my law studies, I got to perform the lead roles in many great projects, which kindled an intense desire to once again pursue my dream. During my last year of law studies, I promised myself that I would apply to just one prestigious musical theatre school somewhere around the world and that if I got in, I would take it as a sign to jump on the opportunity.
I researched schools in London, Vienna, Sydney, and several other major metropolitan areas. I finally chose American Musical and Dramatic Academy (AMDA) in New York City. It seemed to me an excellent idea to study in an exciting school program while living in a city known for being a bastion of arts and culture, and a mecca for dreamers and artists like me. I wasn't sure what to expect after mailing my materials to the school, but I was accepted.
At first, getting in was wonderfully exciting, but soon the reality of making this dream happen financially started to set in. The difference between the Estonian crown and US dollar was outrageous at the time so taking out a loan wasn't an option. I realized that I couldn't do it without the help of sponsors.
So I wrote hundreds of letters, filled out numerous applications, and made endless phone calls. Unfortunately, my effort wasn't met with success. I even contacted Estonian newspapers in hopes that they would write about my getting in to AMDA (this was an achievement back then, since Estonia didn't – and still doesn't – have any schools specializing in musical theatre). I got my newspaper articles, but I didn't get any sponsors. I began to feel desperate, and finally felt I had no other choice than to resort to Google. I started to randomly Google Estonians in the United States, and sent out packages to people whose names sounded like they could be important enough to be in a position to sponsor a student.
Just weeks before the first semester school fee was due, I still had nothing. Then, while studying for my final law exam, I got a call from a "Mr. X" in America. He told me I reminded him of himself, and offered me a verbal contract that was a mixture between a loan and a scholarship. Of course I said yes. I was ecstatic!
One month after graduating law school, I packed my things and moved to New York City to begin my training. I religiously wrote to my sponsor throughout my studies. I was always honest about my grades, what my teachers said, and how I felt about my life in the Big Apple. He kept sending money, and my loan just kept growing. It was terrifying, though I did eventually find other sponsors and even got a scholarship from the school. It was incredibly hard work, but I managed to graduate from the school, which was a dream come true.
I will never forget my graduation ceremony. The fanfares were playing and the church was packed with graduates and their families and friends. But I had told my family that I wanted them to wait to fly over for the first time when I finally hit the professional stage in a big starring role. That meant I ended up graduating without my loved ones there to celebrate with me. It was lonely, but I knew I had everyone's blessing. I also had a very special letter from my sponsor with me. It said, "You remind me of myself. You're stronger than a rock. Let this all be a scholarship to you." Unbelievably, he had forgiven the loan portion of our agreement. It was unreal that someone who had never seen me with his own eyes had so much faith in me.
After graduation, I was finally able to meet the man who changed my life, and he never asked for anything back. He gave me my "American Dream" with the most truthful sincerity. I will never forget our encounter. When I arrived at our meeting place, I got out of the car and was greeted by an older man with the warmest smile on his face. He opened his arms and said, "Come here, my singing bird."
STUDIES
AMDA was the most wonderful experience I could have asked for. I felt truly loved and respected by all of my teachers; I studied hard; and I even had got a nickname from my fellow students: "Rehearsal Nazi." Teachers would tell me during one-on-one meetings that I was one of those students who would find work non-stop. I was a hard worker, so I had no reason to believe otherwise.
But once I graduated AMDA and reality kicked in, life wasn't quite what I expected. It really takes time to adjust to the harshness of the real world as opposed to the safe, nurturing arts school environment. I had obtained my OPT card (Optional Practical Training), which allowed me to work legally in performing arts for a year. But the year just flew by.
I did get an offer to work for a respected theatre company, one that would've earned me an Equity card, but I had to turn it down. I also didn't have enough time left to put together an "exceptional artist" visa application. I was forced to make a tough decision: find a way to stay in the United States or go back home to Estonia. I knew it would be hard, but I felt that it was not my time to go back yet. I wanted to stay and give it a shot.
I will always remember how a friend of mine sat across the table and asked me to marry him (he's gay; it was strictly to help me stay in the country legally), but because of my ethics, I didn't want to do it. Sure, marrying him would have been an easy alternative, especially considering that I otherwise would be staying on a student visa or an artist visa, and the limitations that both visas present are monumental. But I couldn't agree to it. For some people, it might not seem like a big deal, but in my mind it was disgraceful and dishonest. I didn't want to have a burden like that for the rest of my life. Plus, I believe strongly in love, and I didn't want to give away my ability to marry, just for the sake of convenience.
One legal and ethical option that I did have for staying was to become a student again. So I began the process of finding new sponsors and a new school program, all within a couple of months of graduating from AMDA. It was extremely nerve-wracking, but, at the time, it seemed like the only option to stay in the US. I was somehow able to make it work, and I began a new class in the Broadway Dance Center (BDC) International Student Visa Program (ISVP).
Luckily it turned out to be one of the best, most inspiring decisions I've ever made. As someone who has been singing since age five, but not dancing, it was the perfect opportunity for me to spread my wings. I immediately knew that the dance training was going to benefit me as a musical theatre performer, but I never expected to fall so passionately in love with dance. It is truly a gift.
This time around, during my studies at BDC, I was wise enough to start collecting and preparing materials for the exceptional artist visa while still in school. The exceptional artist visa, which is officially called the O-1 visa, would allow me to work legally in performing arts. I joined many arts and theatre groups, performed numerous shows for free, and kept building my resume. By the time I had to turn in my application, I was ready, and I got the visa.
TODAY
I've now been in the US for eleven years and have been fortunate enough to enjoy an amazing career so far that includes such highlights as performing as a soloist at Carnegie Hall and singing the iconic roles of Maria in The Sound of Music and Hope in Anything Goes. I've performed in numerous off-Broadway shows, collaborated with world-renowned Rolling Stones saxophonist Tim Ries, and performed in countless concert venues and projects with amazingly talented orchestras and musicians. I've even helped originate songs by well-known composers Phillip Springer (who wrote the beloved Christmas tune "Santa Baby") and Mark Barkan (known for writing the Lesley Gore's hit "She's a Fool").
I also now have a US Green Card through a real marriage based on true love. I have nothing to hide, and I'm thankful that it's been such a great journey. It definitely was not easy when I was facing each obstacle, but today I'm grateful because it has molded me into a stronger human being and performer. It is absolutely mind-blowing to think back to when I arrived here in New York City, not knowing anyone or anything and struggling to find ways to survive.
It sounds like a Cinderella story – a girl from the woods (my Estonian home is literally in the middle of the woods!) makes it to the Big Apple, struggles to find her identity but still gets her "happily ever after." Well, the truth is that "happily ever after" didn't happen overnight. My adventurous story didn't end when I got the artist visa, which I discovered, much to my surprise, has numerous limitations. There were times when I first arrived in New York that I would have to use a coat as a blanket. And there were other obstacles as well – I lived in a women's dorm house run by eight Catholic nuns, worked as a Jello shot girl, and steamed clothes, all with a law degree in my pocket. People who had no right to do so judged me, but – lucky for me – I was supported by family and friends who understood why I was doing what I was doing. The point is, I overcame the obstacles and it definitely wasn't because of luck. Quite often, "luck" is a result of hard work, which is exactly what I did – I worked hard, dreamed, believed, and never gave up. Yes, I sacrificed a more comfortable lifestyle because of my choices, but I stayed true to my morals and values and kept my focus on the reason why I was doing it.
Sometimes people ask me why I'm here, if it's been so hard, or if I regret staying and trying to "make it" in New York City. Absolutely not. Have I had moments when I thought about going back home? Of course, many times. But it's not about ease and comfort, it's about living with excitement, pushing yourself, going after your goals, experiencing new things, and studying and enjoying all aspects of life, which is exactly what New York offers. It is so inspiring to live in a metropolis of culture and gain new experiences every second of every day. I simply love where I am today and feel that it is my mission as a storyteller to share my experiences and (hopefully) to inspire others.
How often do you hear people say, "I wish I had followed my heart"? I am not one of those people and I hope you're not either. Life is too short and too precious. Don't live for other's expectations, but only yours. Dare to dream and go after it and remember: the biggest part of making a dream come true is YOU!
Kristi is an Estonian-born singer/actress living out her dreams in New York City. She got her start at age 5, performing in Estonia at a bread making factory and has been performing ever since. For more information, check out Kristi's website www.kristiroosmaa.com