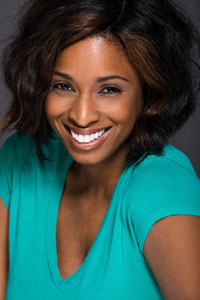 Hi. I'm Tiffany.
I'm an actor who did the unthinkable. I left Los Angeles for Atlanta to pursue a career in acting. I know. You're thinking, 'Why would anyone leave LA to become an actor?' I get it. There's more to the story.
After five years of acting classes, rigorous auditions, and giving it all I had, I decided I needed another approach. What I began to notice was that my agents were having me put myself on tape for projects in Atlanta more and more. I had even flown to Atlanta to audition for a project. Being from Florida, I decided that my chances of booking a network TV gig might be better if I just moved to where these projects were being produced.
That was two years ago and I've been putting in work in Atlanta since I got here. These days, I've made friends of the casting directors and many directors and producers in the city. I have a lot to learn but I've certainly made excellent use of the time and knowledge I've brought from Los Angeles.
As a result of my experiences, my friends from LA often ask me the same question: Was it worth moving?
Well the truth is, I can't answer that for anyone but myself. I'm from Florida so it's really easy for me to get home as often as I need to and see my family. I have managed to create a flexible schedule that allows me to take on projects and keep my bills paid. This was something I was never able to accomplish while living in LA and it stressed me OUT.
I figured the info could be useful to other artists so I put together a free ebook, 5 Ways To Make Money As A Starving Artist. It's a free download from my website, www.TiffanySBlack.com.
I've also been fortunate to work on some cool projects since I've been here. So for me, it was worth it. Because I can't make the decision for others, I decided to write a reference book to help them not only make the decision on whether or not they should leave, and guide them along their way if they do choose to make the move.
I surveyed my friends for the info they wanted most and make that the table of contents for my book. In The LA Actor Conquers the Atlanta Market we discuss the following:
Why do you want to move? (let's figure out if this is even what you should be doing)
Things you need to know before you go… (not that stuff from the skating movie or the reality shows)
Real life in the Atl (where to live, the cost of living, how it compares to LA outside the industry stuff)
The In-Crowd (who is in it and how you can get in)
Hit the Ground Running (where to go, how to get around, the actor hubs, etc)
End Notes (tons of resources for the road)
If there are any questions I can answer about the southeast market, feel free to hit me up on Twitter @tiffanyblack! I'd love to chat about it!