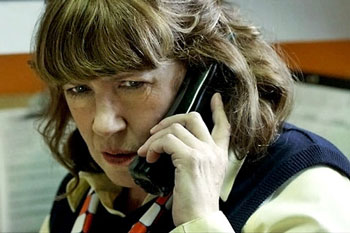 It's pretty rare for an actress to launch her own Oscar campaign.  But Ann Dowd, star of the indie film Compliance, ended up raising over $13,000 to send DVDs of the movie to voting members of the Academy.  Despite the non-conventional lobbying, the actress still didn't earn a nomination.
"The initial response was disappointment," she said in an interview with NPR.  "Not unfamiliar to an actor.  That's the great thing.  Actors get a lot of disappointments—roles, attention, etc.  So I sat with the disappointment, and then I got to the point where I could say good for those who are on the list."
Although Dowd is one of the few who started her own campaign, it has been done before.  In 2011, actress Melissa Leo gained some notoriety for paying for ads in Hollywood trade publications that featured glamorous photographs of her with the words "for your consideration" for her role in The Fighter.  Leo argued that as a middle-aged woman she was less likely than a young  starlet to get attention via magazine covers and additional press.  Dowd agreed, saying, "I think women are used to stepping up and getting the job done when you need to.  That's all—because that's the world we're in.  If you don't get the material out there, if people don't see it…it's not going to happen.  [It's a] very simple decision."
The role in Compliance, a fast-food manager who ends up interrogating an innocent employee, was a gem for Dowd.  "I understood it on a gut level immediately—[which]made me very sad," the actress, who has also appeared in Marley and Me and Flags of Our Fathers, said.  "Because at the core of that person, Sandra, is shame…Here she is, late 40s, 50s, managing a fast food restaurant, out of her league in terms of being able to relate to everyone there; they're all young people.  I think her self-esteem is very low, I think she lives externally to please, and that's how she knows whether it's been a good day or not a good day."
Even though she didn't earn that Oscar nomination, Dowd won the National Board of Review for Best Supporting Actress, and earned nominations from the Independent Spirit Awards and the Broadcast Film Critics Association Awards.
Compliance is currently out on DVD.