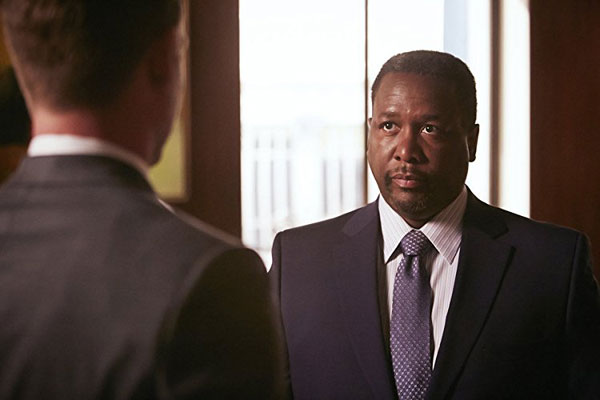 "I always said I studied to try to develop an acting muscle. The key I always thought to my career would be diversity." – Wendell Pierce
Actor Wendell Pierce is best known for his role as Bunk Moreland on The Wire, but since the mid 1980s he has had a varied career in film (Selma, Horrible Bosses), television (Suits, The Odd Couple), and theater (Clybourne Park). In an interview with Vulture about his latest off-Broadway play Some Old Black Man, Pierce talked about his early days as an actor and why he thinks it's important for actors to get some classical training and experience.
Pierce reveals that his father was against him becoming an actor — but he later discovered that his father had a surprising reason why he was so against his son becoming an actor. He explains:
My father was so against me becoming an actor. I was going to a school that was one of the best schools in Louisiana academically, but he was so adamantly against it. I said, "You said do whatever I want to do, but try to be the best at it." And then I realized years later something that I had never known about my father. He wanted to be a photographer.

I realized he had done a show, as if he was Bresson or Roy DeCarava or James Vanderzee, he wanted to be an artistic photographer, and it's an unfulfilled dream of his. So, his reticence against me being an actor really came from that. He had the complete perspective and he was trying to, out of love, protect me against the disappointment.
One thing Pierce is known for is his balance of film, television, and theater work. He explains that his career focus is on diversity in several different ways. He says, "I always said I studied to try to develop an acting muscle. The key I always thought to my career would be diversity. A diversity of not only the type of work that you do, but the mediums. When I got out of Juilliard … every kid first getting out was a little bit of a theater snob — then you realize that it's not about the theater, it's about good material. I've been fortunate to have that become a reality in my career. The Wire, being able to do Broadway, and Piano Lesson, and Serious Money with Caryl Churchill, plays like this one."
Though Pierce is a classically-trained actor from Juilliard, he doesn't believe that every actor needs to come from a classical theater background — but he does think that stage training is important. He explains:
My thing is have some training. Have some interest in the field about where you will go and learn how to do it. It shouldn't be happenstance. You don't have to get the full classical training, but you should at least take some class. You should come to an understanding of how you deal with material, how it broadens itself, all of that. Juilliard gave me the ability to go and do classical, contemporary, comedy, drama, everything.

You wouldn't trust a writer who doesn't read. I tell people all the time, get some training and become a student of your craft. My education about how to do this is ongoing. I'm getting one right now from Roger Robinson. Roger can make the simple act of lifting a spoon of yogurt into a work of art. I just gotta make sure I stay in the moment, because I'll end up being a spectator.