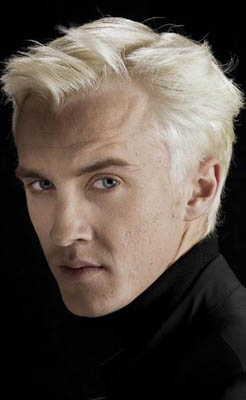 Tom Felton grew up on the set of Harry Potter, playing the role of evil Draco Malfoy. I don't really know much about him except that I love to hate his character.
He talked to the U.K.'s Daily Mail in a great in-depth interview. Some of the highlights are below but one thing that interested me (which I didn't include) is his seemingly frosty relationship with Emma Watson. "She is very professional and seems like an intelligent lady," he says. Kinda odd to say that… they've been working together for the better part of 10 years, right?
Here he talks about being famous, having to audition again and working with the very best actors that Britain has to offer.
On the series coming to an end: 
"I feel a real ­mixture of emotions. There is a little bit of sadness, but at the same time there is excitement. For the past decade we haven't had much freedom to do other projects. I ­certainly haven't had much freedom to keep my own hair colour, or lay in the sun, or do anything remotely dangerous like skiing. It was nice to go on holiday and not have to slap on the SPF50 and sit under an umbrella with three caps on."
On being famous:
"One thing that people keep on saying to me is that the wealth and the fame must have made up for missing out on my childhood. But the idea of money — putting a price on your childhood — is ridiculous. You will never get those years back and you can't put a price on them. And to me, fame is not a positive thing. The idea of being famous is a lot better than the reality. It's fantastic when you go to premieres and people cheer you, but it's not real. And it's totally not my approach to get my name on a club door just because I can."
On auditioning:
"My last audition was when I was 12, but now I have to put myself out there again and it's not easy. I went to LA for two weeks to see what it was like, and after my first audition I came out and nearly fainted. My legs were shaking and I needed to neck three glasses of water.
"It was the worst experience of my life. There were 13 people there — producers, director, casting director, and so on — and it seemed like they were all on their BlackBerries. It's a hard place; they are very happy for you to walk in, see you are not right for the job and say: "Thanks very much, see you later.' "
On working with the great cast:
"We have been taught by the best in the business. Not only about acting but how to act with the crew. As soon as you see "Dame" in front of someone's name you get nervous, but Dame Maggie Smith is the most wonderfully gentle woman I have ever met. She never had a bad word to say. The list goes on: Helena Bonham Carter is lovely; even Ralph Fiennes — as scary as he is, dressed as ­Voldemort — is so sweet.
"I remember my first scene with Alan Rickman and I was anxious because he is a slight "method" actor; as soon as he is in his cloak, he walks and talks like Snape — it is quite terrifying. But I really wanted to talk to him because Robin Hood was one of my favourite films. After I plucked up the courage, we chatted for about half an hour, and he told me where he got his inspiration from and how he thinks of approaching his lines. It is fascinating for a young actor to be able to talk to your heroes like that. It is priceless."